We are indeed much obliged to start the blog with a famous quote by Saint Augustine
The world is a book and those who don't travel read only a page.
and with god's grace we are very much interested to read the book not only single page. Not a book rather but all the great works by great writers.We have been to many places in last two years but Shimla is in our top priority list, since the time immemorial. It was our second tour to Shimla in past 2 years.
1. Indian institute of advanced studies (IIAS)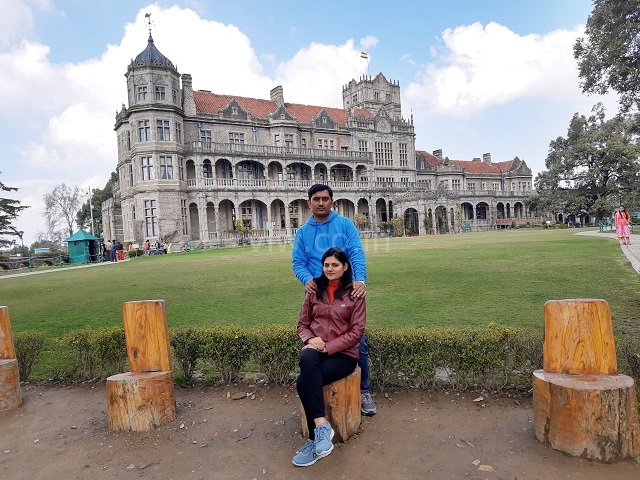 The architecture was eye catching, it was earlier called as viceral lodge, then summer residence of viceroy's of British India and then president of India, now it is called Indian institute of advanced studies. the building was designed by Henry Irwin, an architect in public works department. It is just 30 minutes walk away from mall road. On the way you will find scenic road which have lots of heritage buildings. From entrance gate, the walk to building is stiff with lots of monkeys playing around. Tourists can visit the campus but with limited number of guests and fix time. Photography is permitted only outside the main building. The building has beautiful lawns which are well maintained by staff. It is a post PhD institute for further research in humanities and social sciences. We can call it a majestic building with a remarkable library. The anti-fire measures implemented during the British time are still functional and irrigation cum water harvesting system for garden are much beyond our imagination.
Entry Fee: Rs. 40 for Indians and 85 for foreigners.

Visiting Time: 9:30 AM to 4:45 PM

* Museum is closed on monday.
Check out more on their official website IIAS
In short, an iconic place with gothic building in lush mountains, is really breathtaking.
2. Shimla Joyride Special train
After UNESCO declared Kalka Shimla toy train as World Heritage site in 2008 then they thought to start a joyride service that will play between Shimla to shoghi covering over a distance of around 15 kilometres in approximately 1 hour. it is considered as one of the prime way to see the scenic beauty of Queen of hills and explore the unexplored Shimla.
The joyride train services is different from Kalka to Shimla train service as it will be limited to Shimla City itself.
Train name: Shivalik Deluxe express

Fare: Rs. 565 /person approx.

Booking: IRCTC portal or offline through railway station.
It is a summer special train that is run for limited time period. railway station is just a few kilometres away from Mall Road and you can directly go and book your tickets there. To fortify your journey on the ongoing summer special joyride train you will be provided with a bogie with first class amenities and equipped with washroom. The rest are general compartments you will also get mouth watering lunch per person.
Worth journey to explore the queen of hills shimla.
3. Mall Road

Going to Shimla and not visiting Mall Road is same as reading a number of great novelist and forget to read William Shakespeare. It is situated just below The Ridge and is considered to be the main centre of attraction of the capital city of Himachal Pradesh. You can visit Mall Road on any day any time of the year. it is mostly famous for its showrooms, shops, restaurants ,cafes and last but not the least its local market. It offers Himachal Pradesh famous handicraft products i.e. woolen clothes items from a single safety pins to big branded clothes. if you are going on your own vehicle then you can park your vehicle in the parking area and then from parking they have made lifts which will take you directly to the Mall Road in just 10 rupees per person. Visiting Shimla is incomplete without clicking a photo with the Mall Road in background. It looks attractive and due to its location is mandatory place to visit. We have been here at this place and never get bored. There are many sightseeing places across the Mall Road so before visiting this place make sure to make a list of all the places.It will take around 4 to 5 hours to explore the whole and you will be really enjoying the experience as the weather is always pleasant and colourful views are just worth watching. It gives delight to the eyes even more at night when colourful light gives it an analogical view. It will add value to your treasure of pleasing and never to be forgotten memories.
Mall Road- The Heart of Shimla is highly recommended to visit
4. Christ church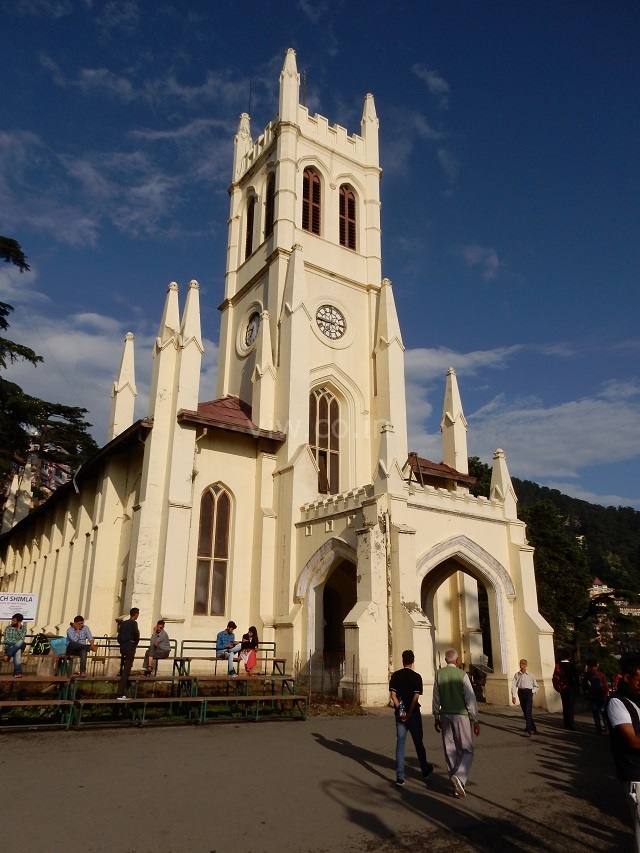 Being on top places to visit in Shimla to being the second oldest church in North India, Christ Church is one of the most iconic place of city for those who are in pursuit of peace. Christ church is a paradise and a bestest place to spend time with yourself. One can't even rate this place less than 5 as it has a sunset point near it that will help in making your day remarkable.
At night the church literally glows with colorful lights while in winter it dons the look of an extraordinary castle. That is the reason that this Church took 11 long years to complete. It was built by the British in 1857 to serve the large Anglican British community in the area. It is located on one end of the mall road. Entry of personal vehicles is prohibited, but entry of ambulance and emergency vehicle is allowed and please make sure to be aware of the monkeys in the area. You will never know when they will be going to attack on your Ice-cream
. Church is mainly closed on Saturdays. Epic construction by British and well maintained by Indians, make it a place like "Heaven on Earth". It will give you a new kind of experience and inner peace every time you visit it.
Visit this place place and experience the power of silence
5. Jakhu Temple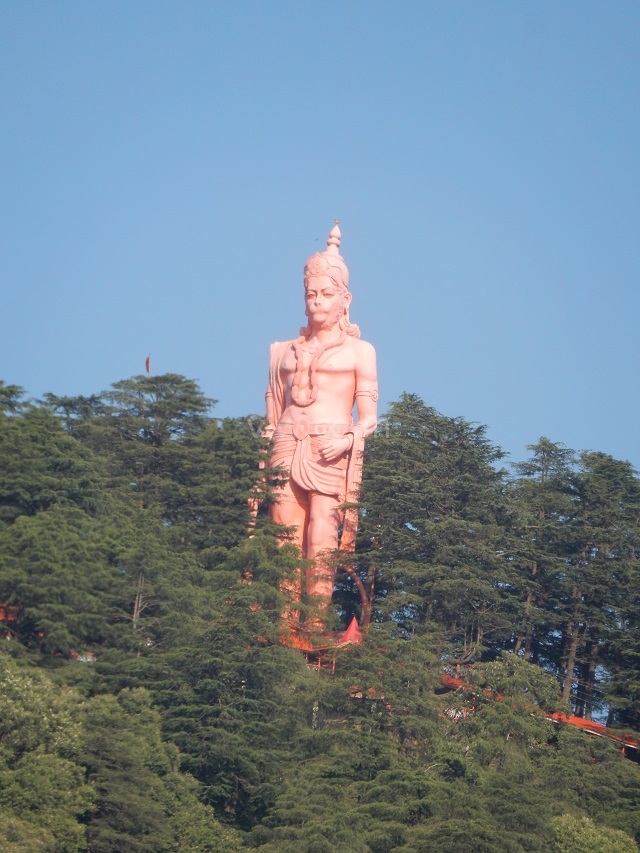 Highest statue of Lord Hanuman in the world.
It is a well maintained spiritual place that had children park adjacent to it. A very high statue of Lord Hanuman greets you and it is visible from every corner of Shimla. You can reach here by road or ropeway.Jakhoo temple ropeway is also introduced recently in Rs. 300 per person for one side from Mall road to Jakhu temple. You can also find rest rooms, public water supply and canteen too for some snacks. You can visit on any seven days throughout the week, but avoid visiting on Tuesday as it is much overcrowded on that day. It is believed that Lord Hanuman during his hunt for Sanjivani Booti rested at this place.
HP Govt. cab service to Jakhoo temple will costs you around Rs. 40 for to and fro journey, much cheaper then anything else. If you want to take a walk to the temple from mall road, then make sure to read and carefully analyse the picture below: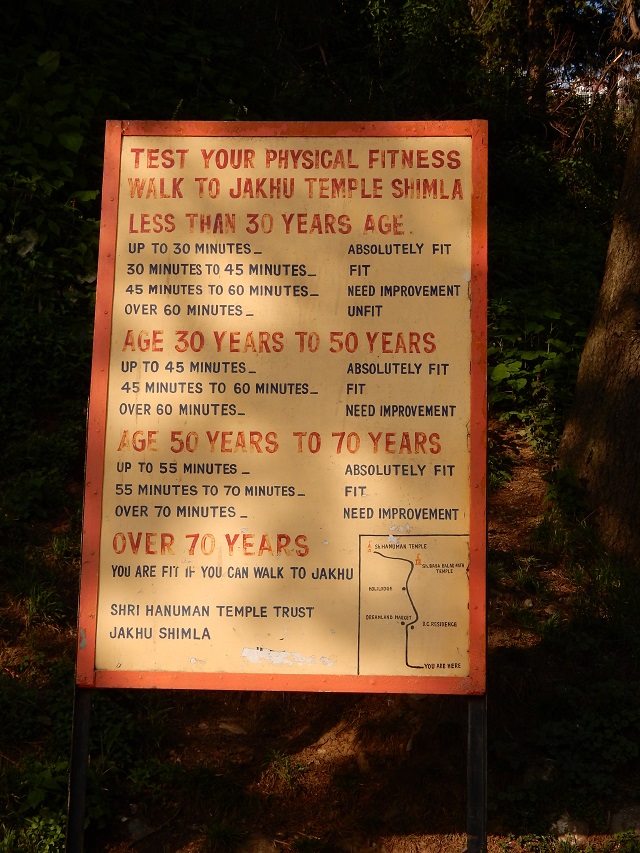 Make a check on your health
It is considered to be a place where you will get what you pray for. Spirituality at best can be experienced here. Temple is neat and clean, inspite of being situated on one of the highest point of Shimla. You will feel mesmerized by the landscape visible from there. But be very very careful from the notorious monkeys and don't forget to carry a stick with you .
Fresh air..... scenic views ...... huge statue... and pious place .. is all what can define the beauty of Jakhu temple.