How to Reach
Travelling by car or vande bharat train with 2 night stay in hotels
Day 1: Delhi to Katra by car/ taxi or by vande bharat train. Night in hotel.
Day 2: After breakfast start your holy trek to Mata bhawan as early as possible. Return by evening or late night. Night sleep in hotel.
Day 3: Return back to Delhi.
You can add extra days before returning for Patnitop or Amritsar to make it 4 and 5 days tour.
OR
Travelling by train or bus with only 1 night stay at bhawan:
Day 0: Board the bus in evening.
Day 1: Reach katra in morning , book a room to get fresh and after some relax and a healthy lunch start your holy trek to Mata bhawan near about 2-3 PM. Reach bhawan by midnight or early and have a night sleep there.
Day 2: Take your trek to Bhairon temple and start your return trek for katra. You can baord the bus in evening.
Day 3: Reach home by morning.
You can add 1 more day for rest before returning.
Katra with Patnitop in Vande bharat:
Day 1: Board vande bharat train in morning and reach katra by 2 PM. Enjoy local market and stay in hotel.
Day 2: start trek by early in morning, Reach bhawan and take darshan and return till night and sleep in hotel room.
Day 3: Complete day at leisure or visit Patnitop in shared or private taxi and board overnight bus to Delhi. Intrcity at 7PM.
Day 4: Reach Delhi at 9.
Daywise itinery we followed
Day 1: We planned our visit to this holy place from 30 October to 1 November 2021 by road.
Distance to Katra from Bahadurgarh is 650 KM approximately. But we started our journey from Sonipat by reaching to our relative in advance. It took complete 12 hours after starting early drive at 4:30 AM in morning. We took 3 short break for tea and CNG refueling. CNG refueling stations are available to cover complete distance to Katra.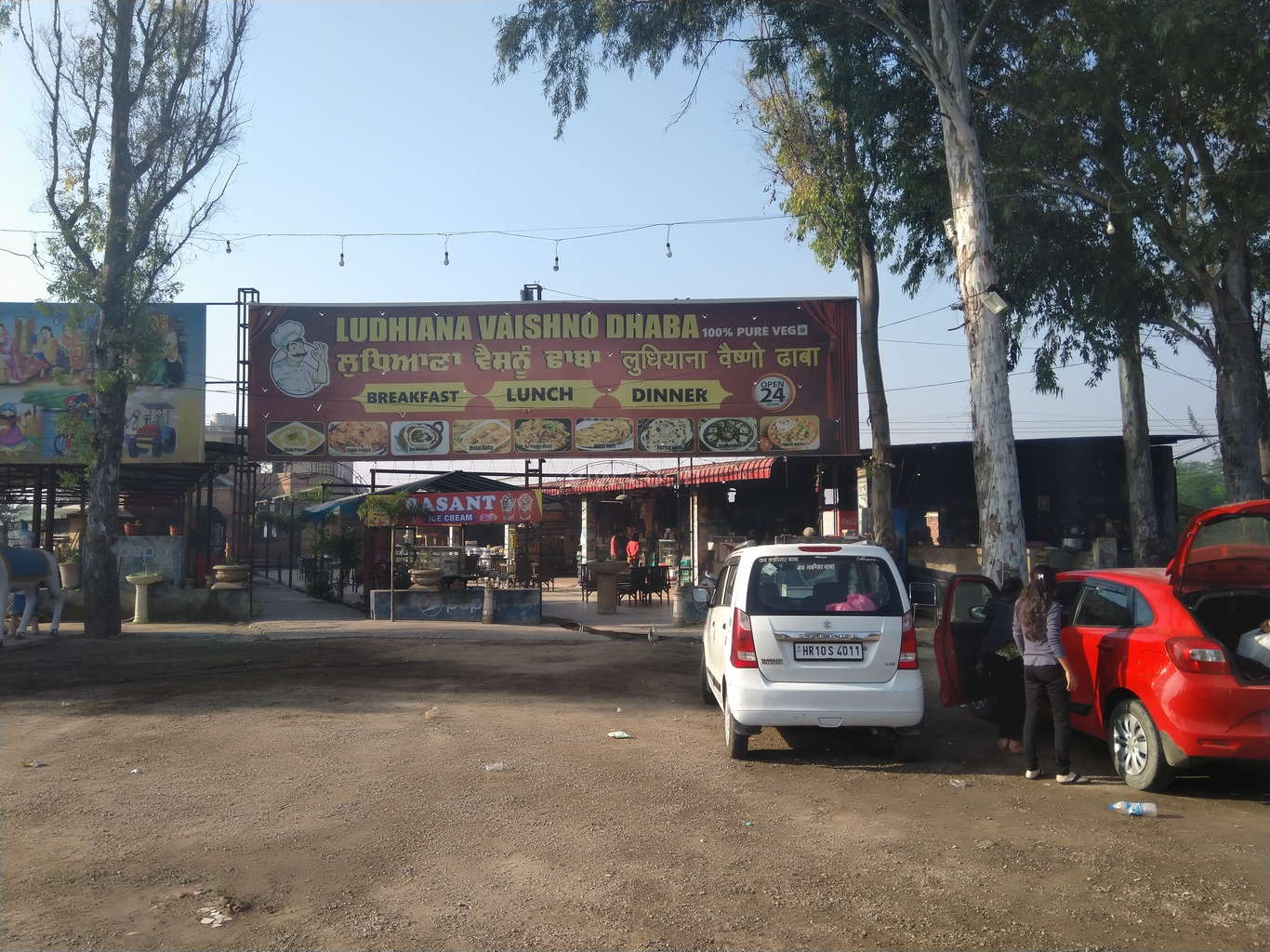 First tea break at 8 AM.
All toll plazas were closed due to Kisan andolan and it helps in reduction of travel time and money. First paid toll plaza was at Lakhanpur border.
Most doubtful thing about this journey was regarding requirement of RT-PCR report of not earlier than 72 hours, we took the risk of getting tested there itself. But all of us had 2nd dose vaccination certificate of all. Entry at Lakhanpur border was hassle free and our 2 dose vaccination certificate were accepted for entry and there were no queues there.
It took another 3 hours to reach the Katra. Roads are just amazing and national highway. Now there is no hills drive after jammu to Katra. You will witness 4 tunnels which makes your journey more comfortable and minimize the distance. We reached to our hotel at 4:30 PM. Now it was time to relax and enjoy the beautiful views of mata vaishno devi yatra trek.
Don't forget to obtain your yatra parchi online.
Link to obtain Yatra Parchi, book room at katra, adhkuwari, bhawan, helicopter booking, attka aarti darshan booking
Day 2: We started our yatra 7:00 AM in the morning from our hotel and reached by 7:20 AM at Banganga. Banganga is the first checking and frisking point where your yatra parchi is checked and you are permitted to start your holy yatra. You can reach to Banganga by three wheeler or cab services provided by most hotels. Our hotel also provided the complimentary three wheeler drop to banganga.
Just after starting your yatra, you will find a lot of horses, pony and palki which offer their services.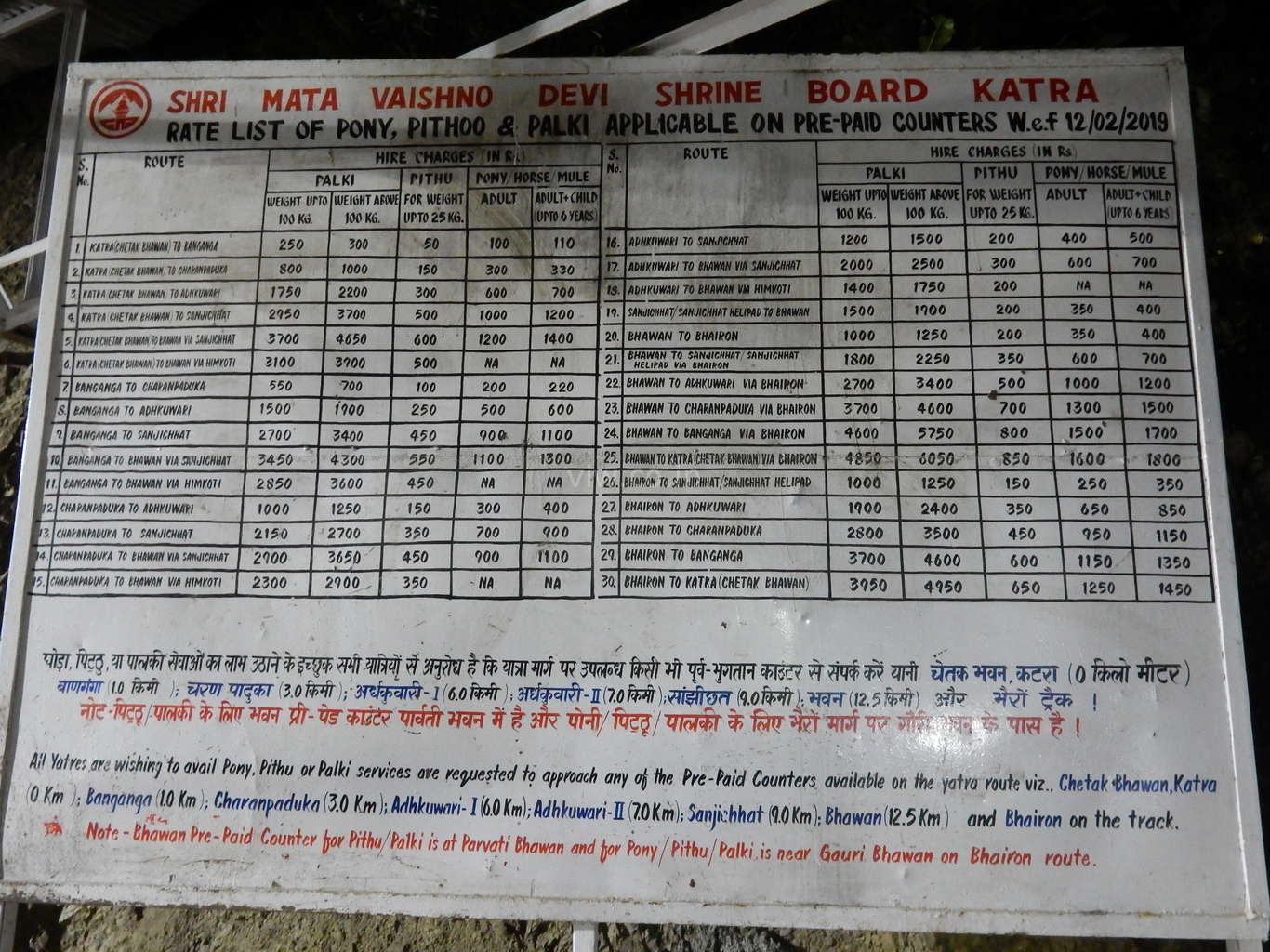 Price list from Adhkuwari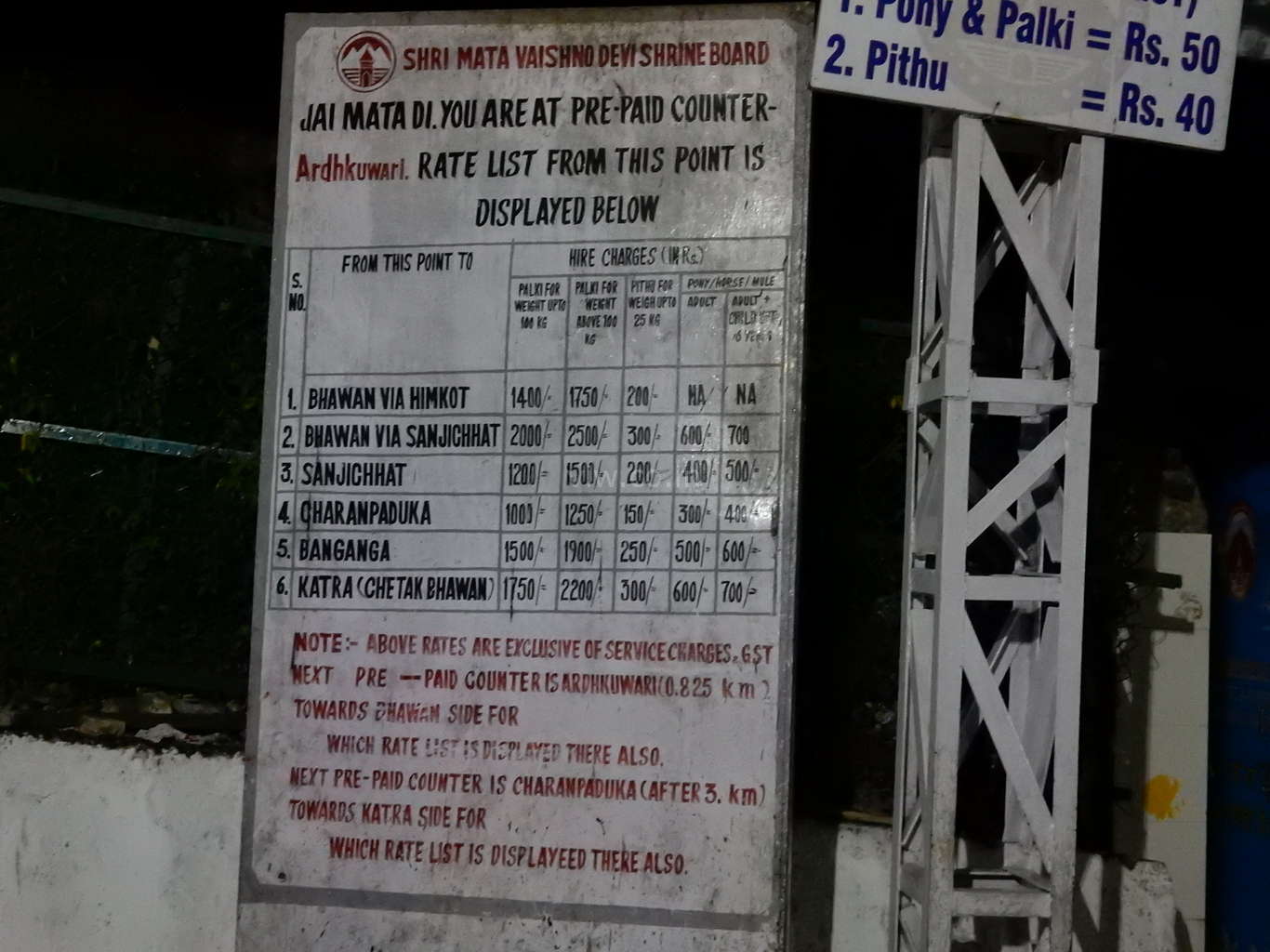 Battery car service is available at pre-booking fromAdhkuwari to Bhawan at Rs. 354 per person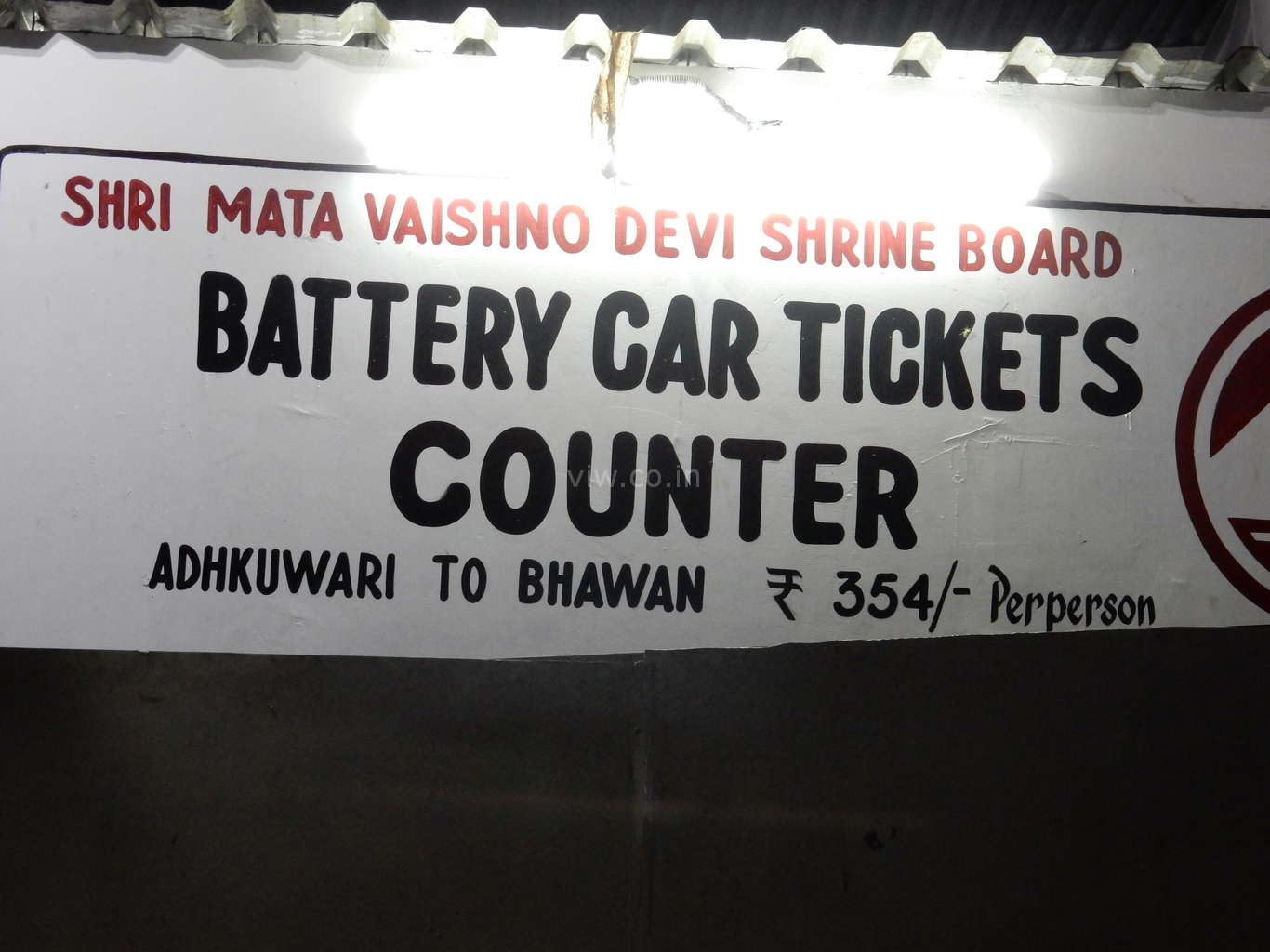 After crossing banganga, you can take bath in ghats with pure white stream flowing all time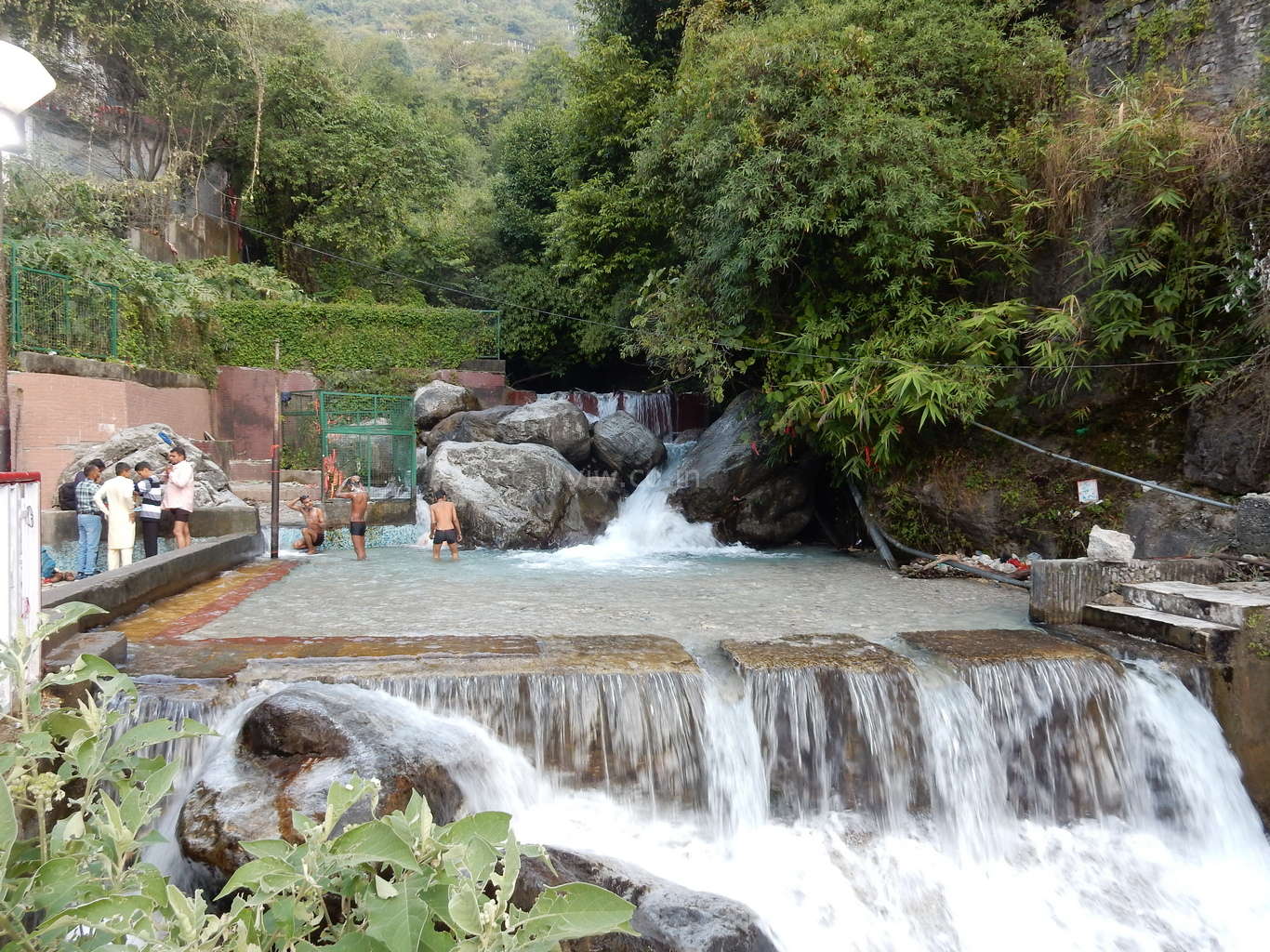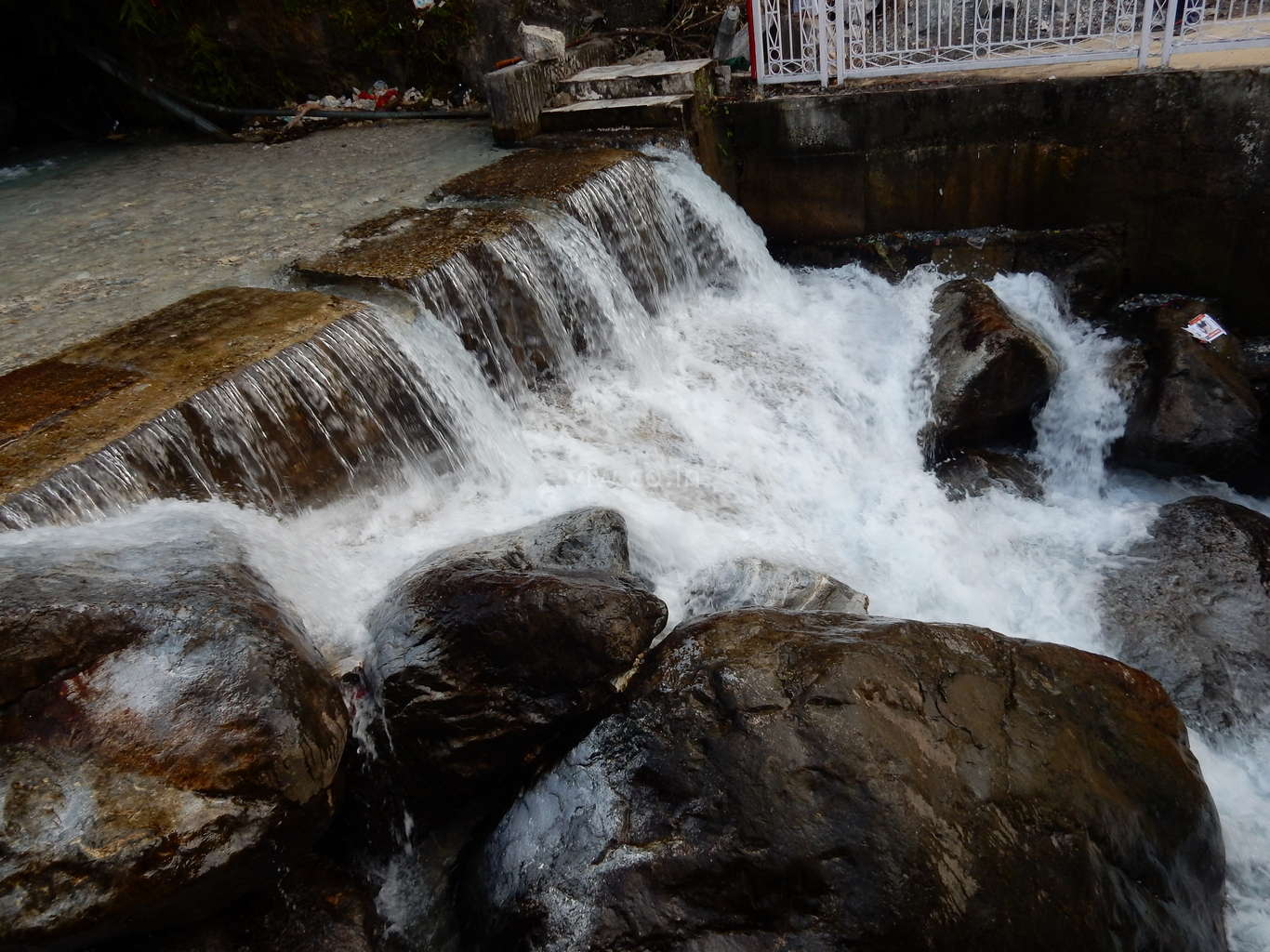 On your yatra to Shri mata vaishno devi, you will find market on both side with shop like prasad, massage, restaurants and other necessary items.
There are two main temples on the way Geeta bhawan and Charan paduka mandir. Drinking water service is available from start to end ot yatra.
Once you reach adhkuwari, you will find a large space to relax and enjoy there. From adhkuwari, aerial view of katra is amazing be it day or night.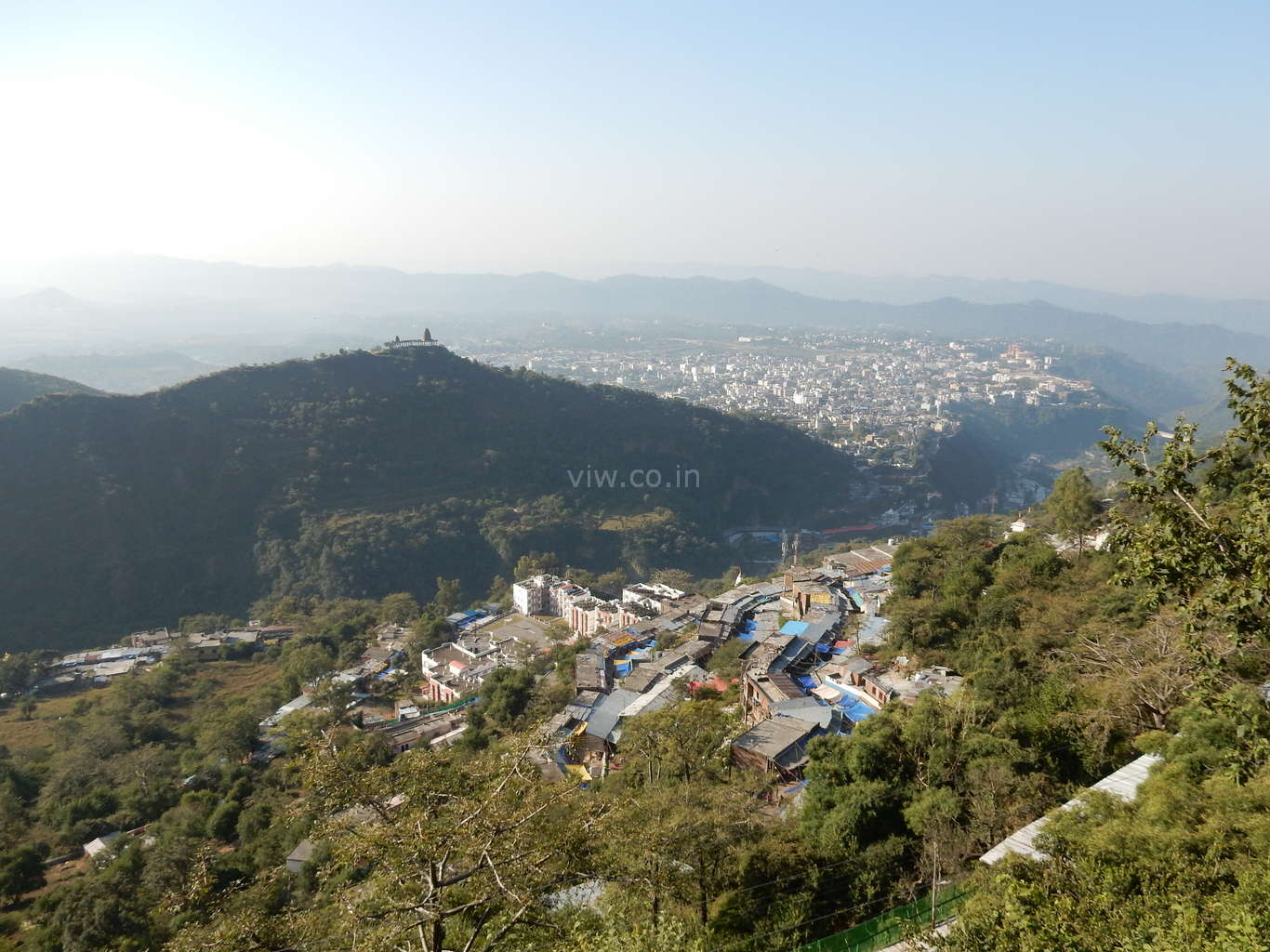 Aerial view of Katra from Adhkuwari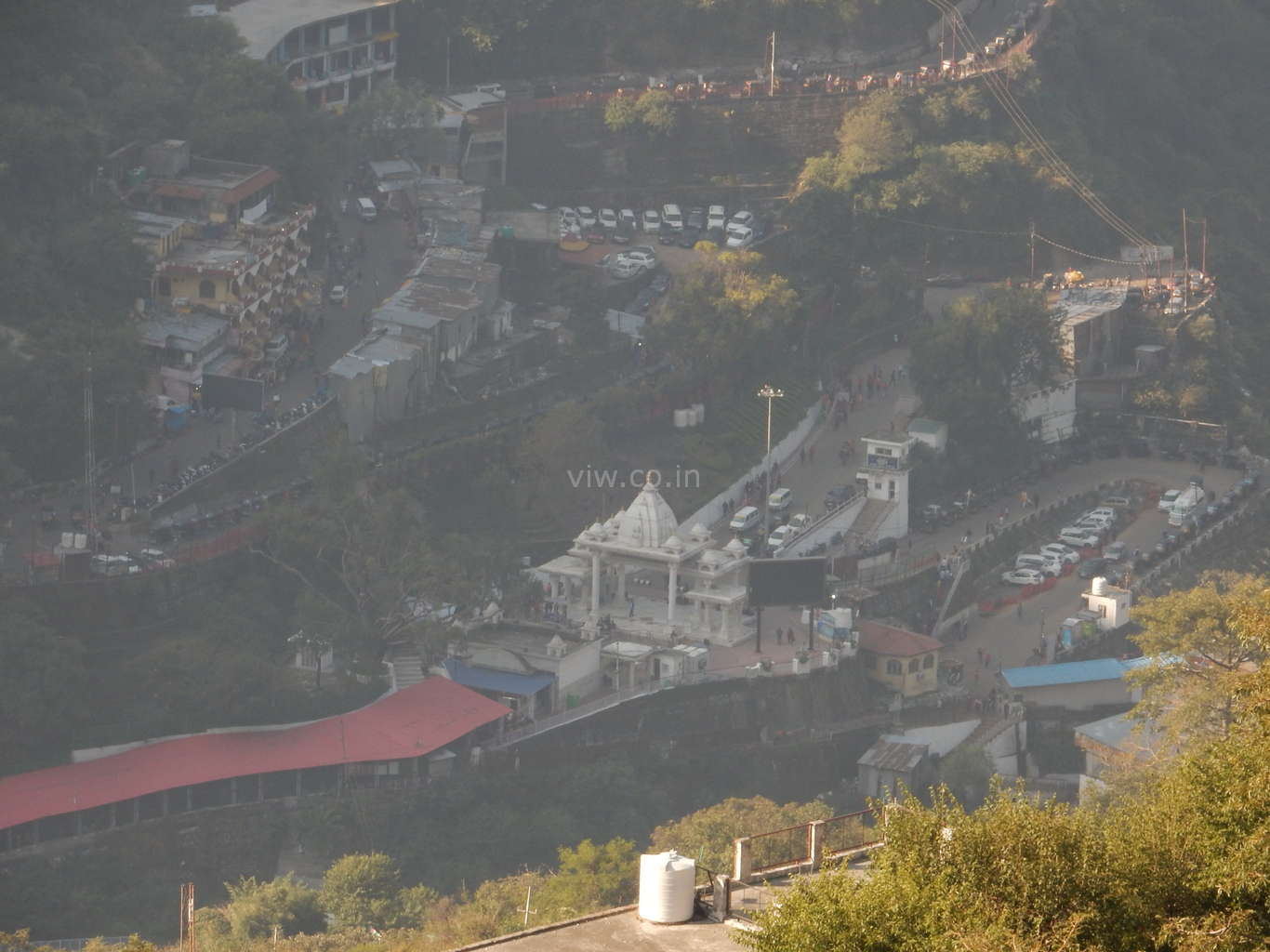 Aerial view of Banganga from Adhkuwari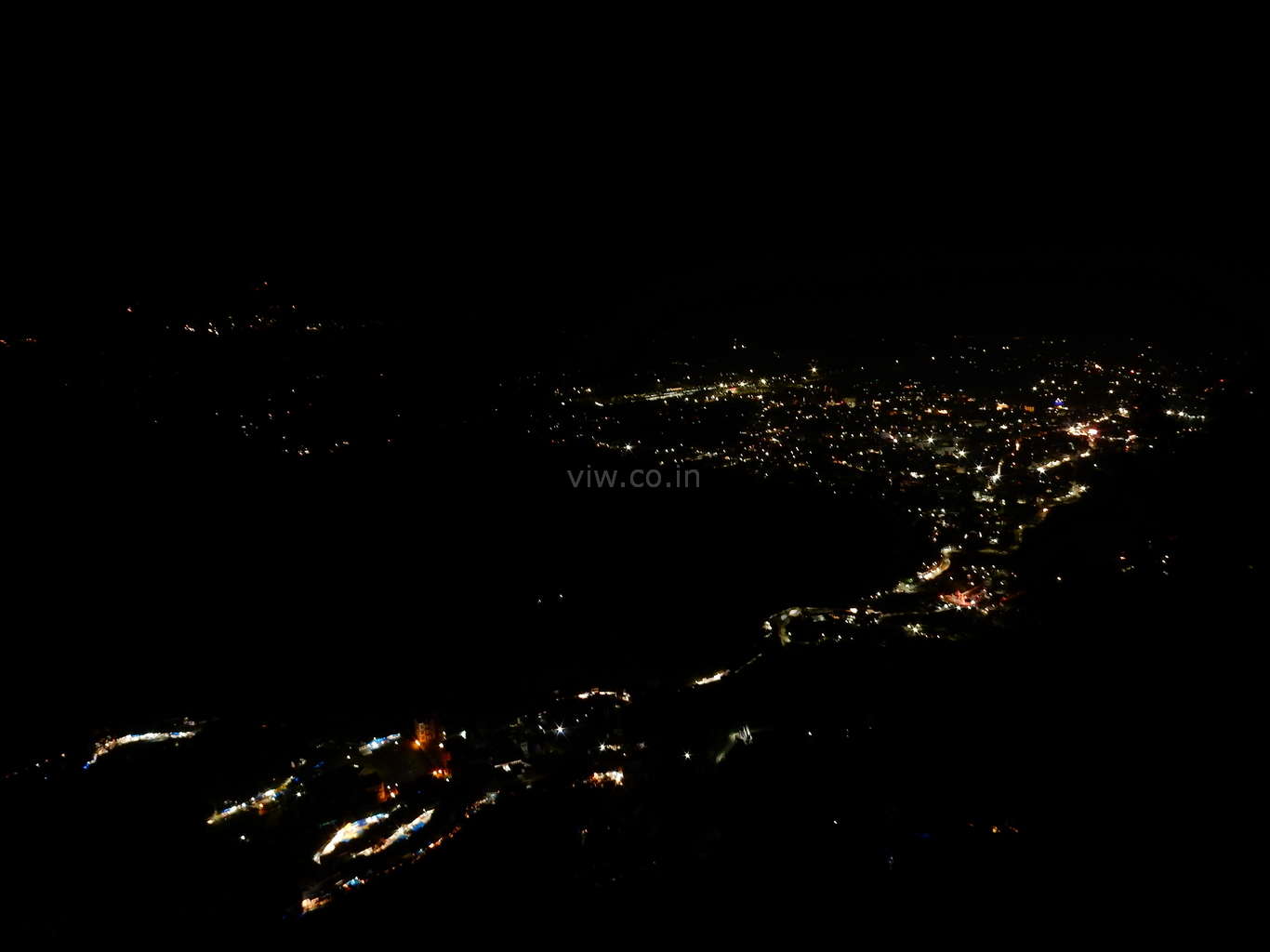 Night view of Katra from Adhkuwari
We reached bhawan at 3 PM and after taking mata darshan, it was time for ropeway to Bhairon. Ropeway to bharion temple can be booked at Rs. 100 per person for both side. Ticket counter for ropeway is near the Prasad shop. Ropeway service is only available in daytime. Each ticket is valid for only two hours to return to bhawan from Bhairon. We were back by 6 PM from Bhairon temple.
You can enjoy delicious dinner, breakfast and lunch at numbers of restaurant available at bhawan. We took our dinner and head back to katra. Now the trek is easy to walk and our descend speed was much higher as compared to ascend. We took some tea breaks in between and enjoyed the night views. Now trek was fully captured by monkeys sleeping on all of the iron poles. At 12:30 AM or you can say mid night, we were back at katra and then took autoricksaw for hotel. Autoricksaw charged Rs. 210 per ricksaw.
You can also watch the complete Guide to Vaishno Devi yatra in video below
Places to stay
There are lots of hotels, guest houses and tourist complex from Shri Mata Vaishno Devi shrine board are available for online as well as on the spot booking depending upon the availabilty of room during the month of travel. Month of June i.e. Summer break is the most crowded after Navratra season. Winters has minimum footfall.
Packing guide for Mata Vaishno Devi Yatra
Often people packs too much while trekking to Mata Bhawan, first principle for any trek is to carry less. Same principle also applies here. You should consider only required thing in your backpack. Some of the things people usually carry which can be avoided to reduce luggage weight are:
1. Don't carry water bottles, just carry an 250ml cold drink bottle or a glass, because RO water is available throughout the path. You have option of Hot, Cold or normal water.
2. Don't carry umbrella. 90% of the path to bhawan is covered and remaining 10% are small pieces in between, so whatever the weather you need not to worry.
3. Don't carry eatables, other than prescribed medicine, since you will find a lot of shops with all sort of eateries and that to be at nominal prices.
4. Don't carry powerbank, all Shrine Board Restaurant have charging points. Only postpaid connection work here so if you are prepaid user than you can switch your mobile into Aeroplane mode, after which your mobile will only function as media player, camera. So one fully charged battery will be sufficient for complete yatra.
5. Don't carry any jewellary, make up kits and extra shoes. You will need to deposit all these in cloak room before proceeding to Darshan, so carrying these will only risk your belongings.
6. Don't carry any pan masala, cigarette, biri, weapon, knife, toy gun etc.
Now what to carry as a minimalist, this list can be customized as per your requirements
Lightweight backback
Set of cloths i.e. Pant, Shirt, Undergarments, Socks, Winter cap and light Jacket (your body heats a lot while walking)
Towel
250 ml water bottle or glass
Mobile or camera with spare batteries (No powerbank), mobile charger
Torch light if planning to trek in night (rarely required)
Space for prasad in backpack, otherwise monkeys will snatch if visible to them.
Yatra Parchi
Aadhar Card
RT-PCR Negative report or COVID double dose vaccination certificate
Various permissions
You will need to obtain Yatra parchi for each and every member be it kid or senior citizen.This parchi is free of cost and can be obtained online as well as offline. Many hotel also assist in obtaining that.
Identity Card (Aadhar Card, Driving License, Voter Card or any other with address proof).
COVID double dose vaccination certificate or not earlier than 72 hours Negative RT-PCR report.